Involve Asia's Validation system is built to validate conversions directly on your advertiser dashboard. Here are the steps on how to use our validation system:
1. You will be able to access to your new validation system on the navigation bar located just beside "Reports"

Illustration purposes only
2. Once you're in the validation panel, you may choose a specific offer to validate should you have more than 1 offer. You may also choose to download these conversions if you would like to validate via Excel format and then upload it back into your dashboard.
Also, you may choose to:
display an additional sub id
get a summary of total pending, approved, rejected, & yet to consume conversion
list of all your conversions to validate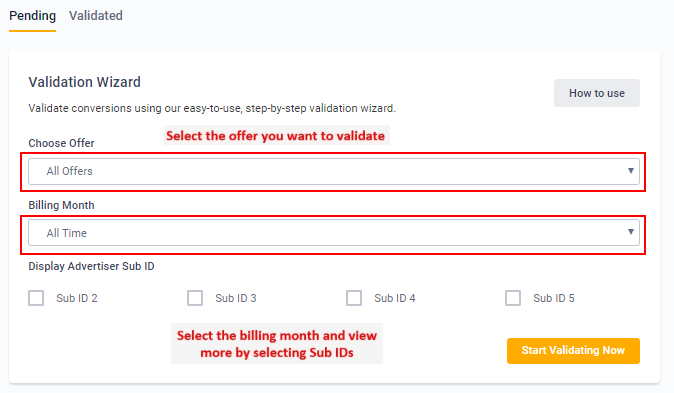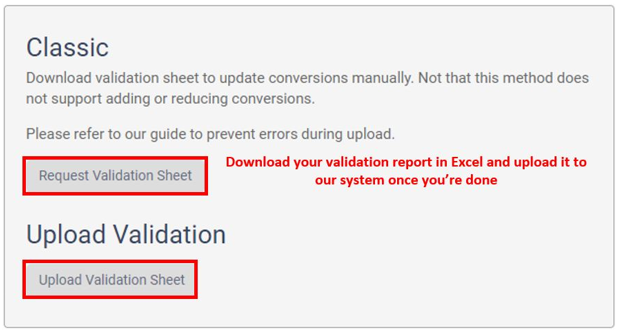 Illustration purposes only
3. Once you've selected the offer and / or billing month(s), you'll be able to view all the pending conversions that are yet to be validated.
We've added a new progress bar at the top for you to view where you are in the 3-step validation process. They are:
a. Pending conversions
b. Confirm changes
c. Submission successful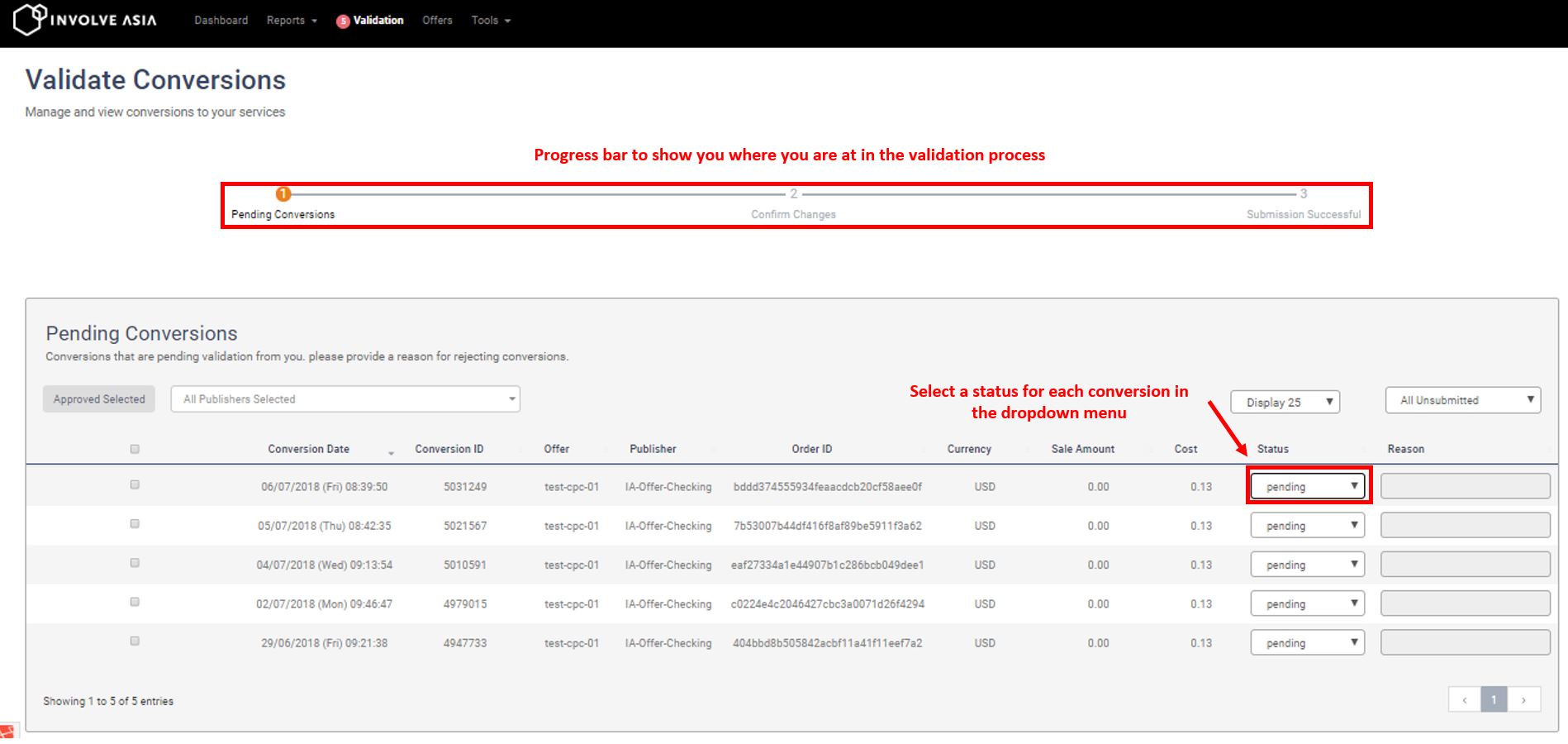 Illustration purposes only
When validating your conversions, you can select any of the options in the drop down box which includes:
a. Pending
b. Approved
c. Rejected
d. Yet to consume
If you select "Rejected", you will need to provide the reasons for these statuses. This will be reflected on your publisher's report and we suggest to provide clear and easy to understand reasons to avoid any dispute.
If you select "Yet to consume", we recommend to provide remarks such as the checkout or return date.
Approved conversions do not require any reasons.
Once you are done validating the conversions, hit "Next" at the bottom of the page.
If you navigate away from this page, you will be prompted about unsaved changes. Do not leave the page or else you will have to re-validate the conversions again.

Illustration purposes only
4. The next step is to confirm the changes you've made to the conversions you've validated. The screen below will give you a summary of:
a. The number of approved conversions
b. The number of rejected conversions
c. The number of conversions that are still in pending status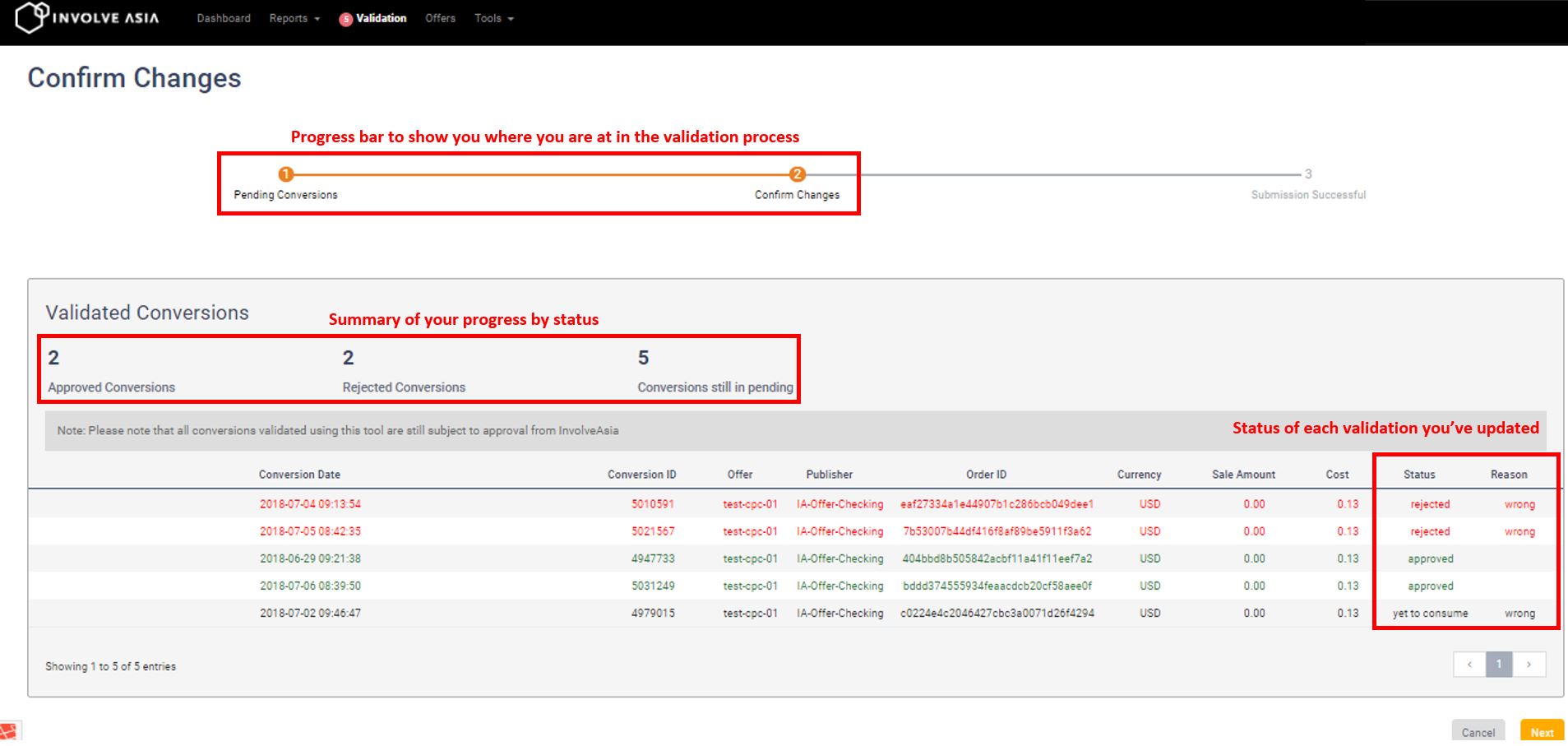 Illustration purposes only
Should there be no changes, hit "Next" to submit the validation. Please be advised once validations have been submitted, it cannot be reversed. Please make sure your selections are correct before submitting.
5. Once you have submitted your validation results, a confirmation screen will tell you your submission is successful. Our finance team will then review your submission and process them accordingly.

Illustration purposes only
You can still review your submitted actions by scrolling downward for more information.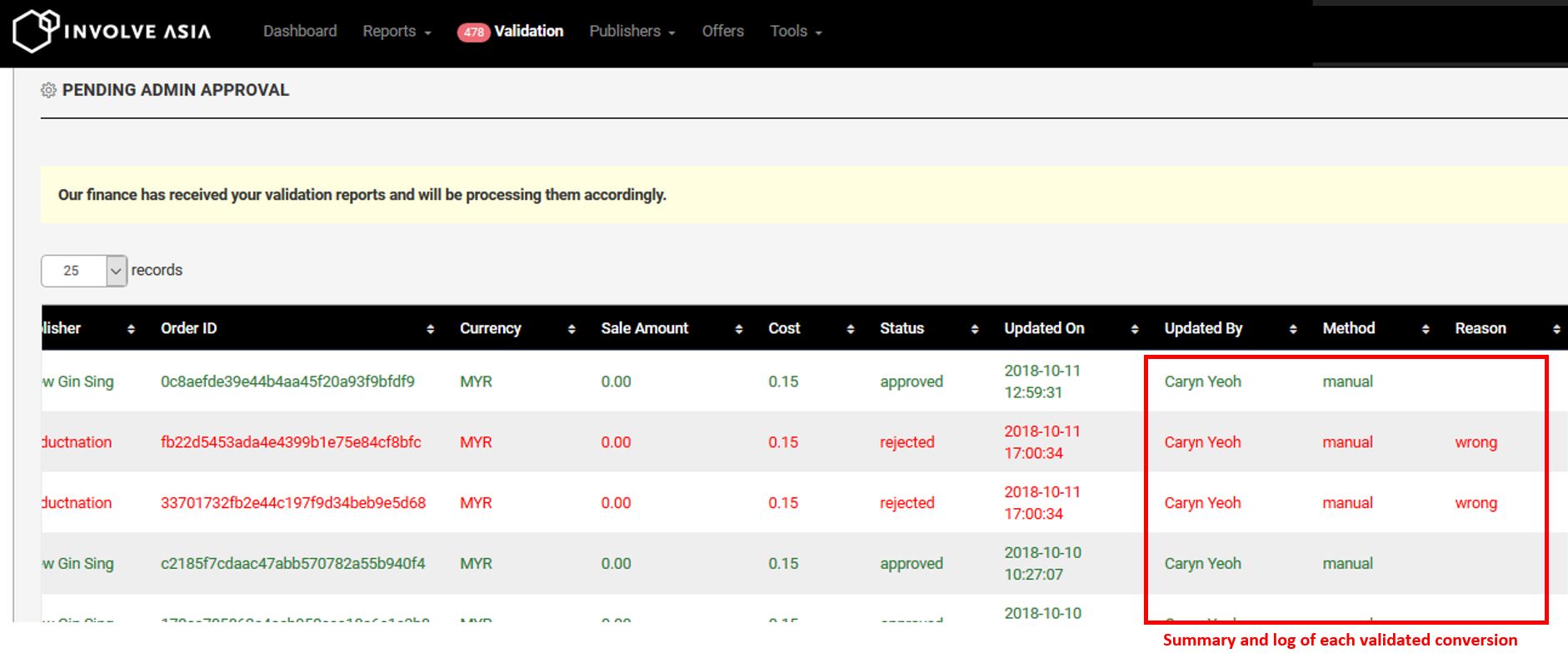 Illustration purposes only
If you still need help in validating your reports, feel free to contact us at validation@involve.asia