Who are Partners?
Any type of social media account(Facebook, Instagram, Twitter, TikTok, etc.), large websites, personal websites (Blog, online sites, etc), online communities (forums, cashback, etc), loyalty websites, coupons or promotion sites, or non-profit sites are welcomed to join our affiliate program.
Partners can use Involve Asia platform to earn commissions based on the Advertiser's offers.


How to sign up as Partners?
To sign up, simply follow the below steps:
Fill in all the required information and ensure to cross-check the email address that you would like to use to log in to your Involve Asia dashboard.
You will then receive a confirmation e-mail with a link to confirm your account registration.

This email expires within 5 minutes and you will need to confirm click the email confirmation link as soon you have received it.
There might be delays in receiving the confirmation email at times due to the high number of sign-ups so please bear with us.
Please check your Spam, Junk, and Trash folders in case the email has landed in any of these categories.
Please take note without clicking and confirming the link you will not be able to log in to your dashboard.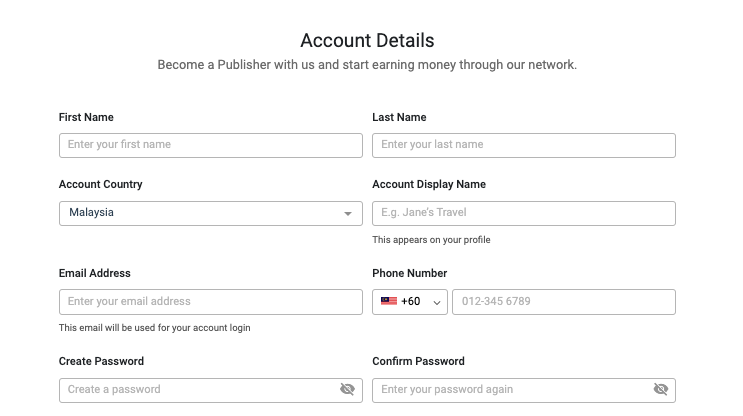 Proceed to complete the Property Details:
1. Property URL: Ensure to enter your property URL correctly as this will be reviewed for approval.
(Example: https://www.facebook.com/profilename)
2. Property Display Name: You can name this property and this is for your reference
3. Property Type: Choose which type of property you are adding. You can hover to the

to know about the property type.
4. Property Category: This is to understand your property niche and interest to promote. You can also change this later if your change your mind.
5. Country Traffic: This is where you have most of your traffic and you can choose more than 1 country.
Tick the check box for agreement and click on Create Account.
What's Next after signing up?
How to start using your Involve Asia account
1) To start using your Involve Asia account, Involve Asia will send you an e-mail confirmation which will be sent to your registered e-mail account.
2) Please check the same e-mail account used to register and click the link which has been sent to your inbox to activate your account.
3) If you did not receive the e-mail, please check your spam/junk inbox.
Here's what the e-mail will look like: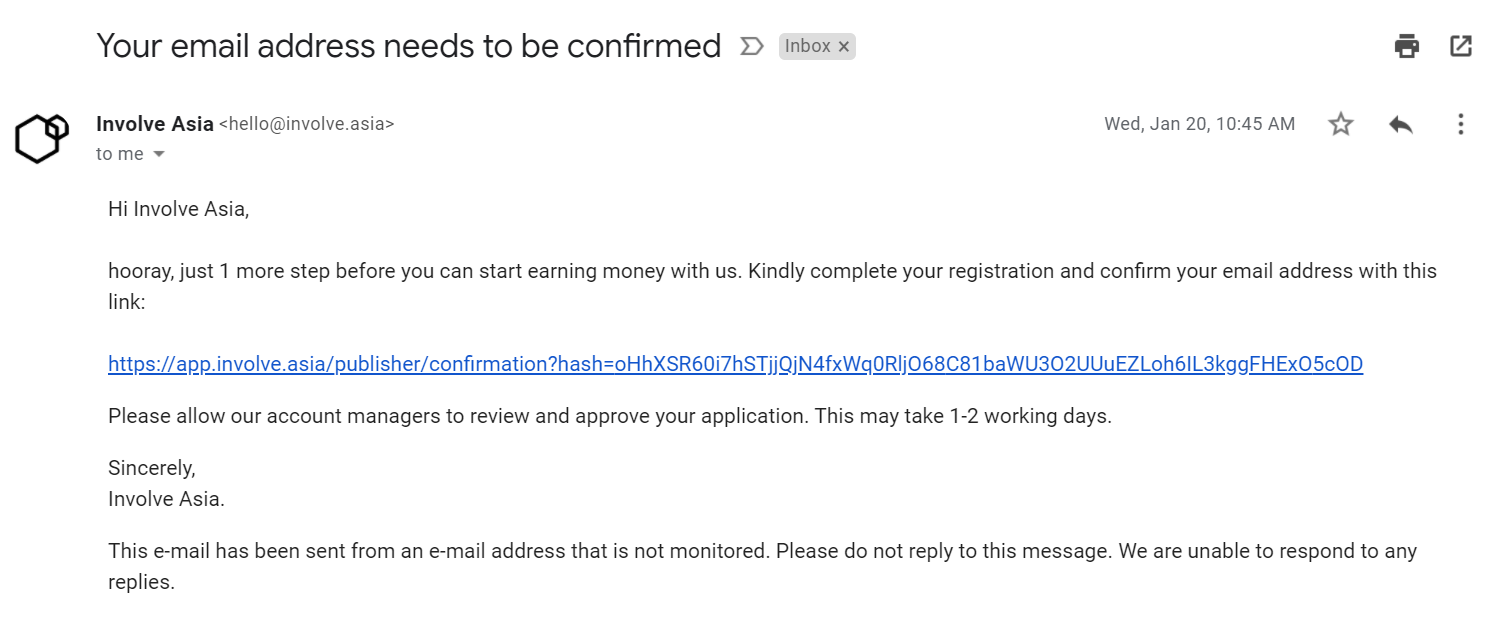 Once you have activated your account and upon property approval, you can start to promote offers available from Advertiser Directory.
For property approval details, please refer here: Property Registration Requirements