What Is the Process and How to Raise a Dispute for Missing Transaction
Here is how you submit a missing transaction against conversions which have been untracked or was reported by your members.
What information do I need to submit for a missing transaction?
Offer or Advertiser Name
Purchase Date
Order ID
Sales Amount (currency based on offer)
Remarks (optional)
Sub ID 1 (optional) – If you are a cashback website, please provide the UID or Member ID.
*Please ensure there are no duplicate entries.
How to submit a dispute for missing transactions:
Tools >> Missing Conversion
"New Missing Conversion" Add the information required

3.Once completed, Click Confirm submission to process or click back to edit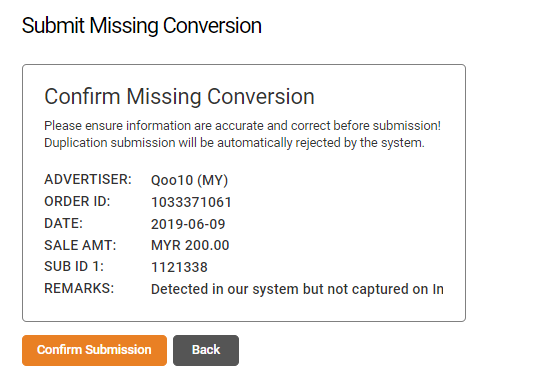 How to check submitted missing transactions:
Tools >> Missing Conversion
Click "Reported Missing Conversion" to view reported status
Status Remark
Under Review – Pending to be reviewed by Involve Asia
Sent to Advertiser – Reported to advertiser awaiting advertiser feedback on the status
All other claim types and outcomes cannot be re-submitted once reviewed.