Once you have successfully signed up and confirmed your email, your affiliate account will be activated.
Add New Property
Next: you need to add a New Property or your website details which will be used to promote our affiliate programs.
1.Click "Add New Property"
2.Complete your "Property Information"
Name of property - Your website name

Platform URL (address) - Your website URL

Property Description - Description about your website
3. Click Next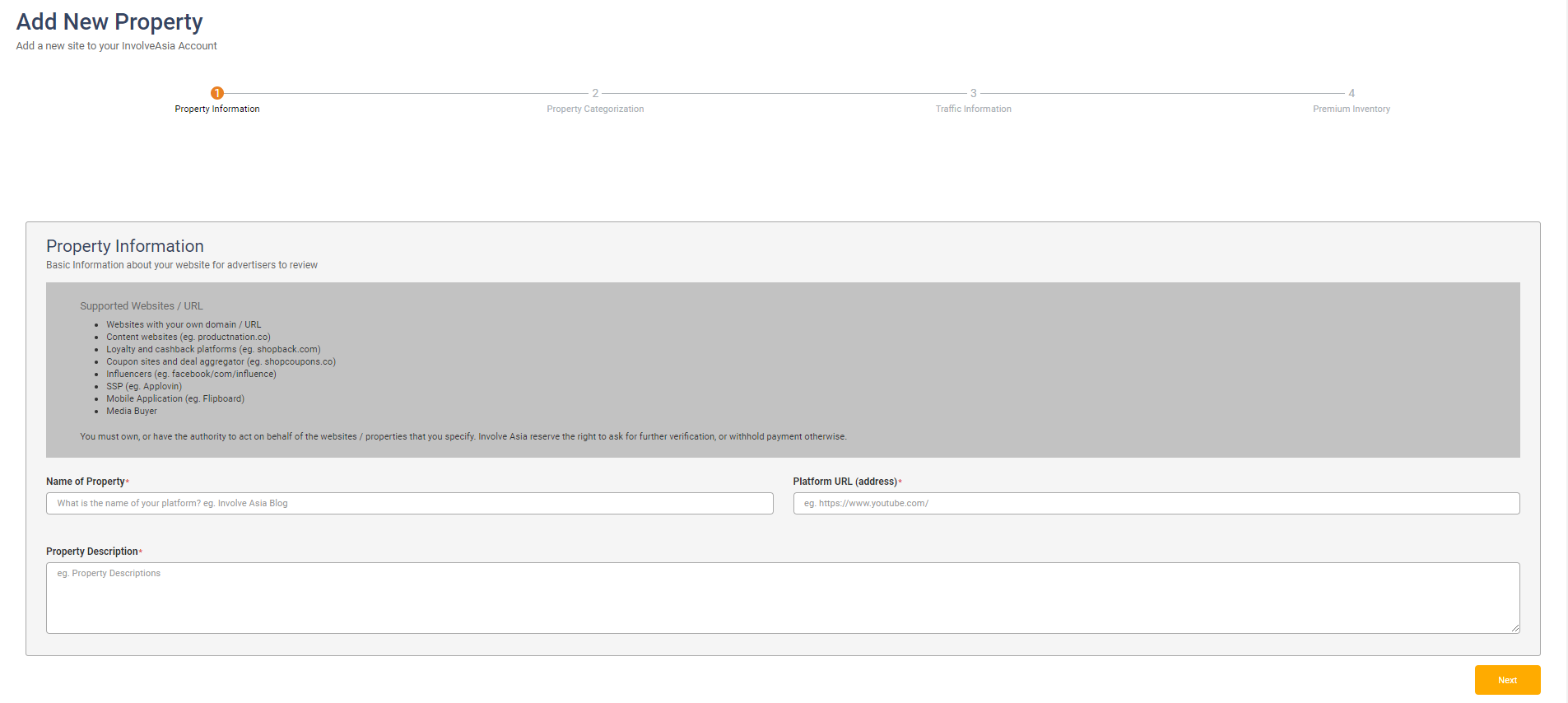 Illustration purposes only
4.Provide "Property Categorization"
Platform Type - Type of your website

Content websites (eg. productnation.co)
Loyalty and cashback platforms (eg. shopback.com)
Coupon sites and deal aggregator (eg. shopcoupons.co)
Influencers (eg. facebook/com/influence)
SSP (eg. Applovin)
Mobile Application (eg. Flipboard)

What type of advertisers are you looking for? - Types of commission earning
Primary Category - Your website main category (eg. Fashion)
Secondary Category - Your website sub category (eg. Travel)

Illustration purposes only
5. Click Next!
6. "Traffic Information" - Complete traffic information
Traffic Acquisition Method - How do you generate traffic to your website
Visitor Country - Where are most of your visitors from.
Tools Used - Type of tools you will be using to promote our program(s)

Campaign - Banner and Promotion code
Deeplink - DeepLinking consists of using a uniform resource identifier (URI) that links to a specific product or page within advertiser website
Shoplinks - helps you to convert any merchant link or keyword into a affiliate link automatically. Shoplinks is suitable for bloggers, websites or any one that provides useful content to your audience.
Widget - Intelligent Ad Widget that updates itself with the latest campaigns.
Datafeed - Product data feed is a file made up of a list of products and attributes of those products organized so that each product can be displayed, advertised or compared in a unique way

Illustration purposes only
7. Next! "Premium Inventory" Involve Asia can help you sell your premium inventory to our network of advertisers

Illustration purposes only
8. Click "Save", Once you successfully added a new property, our publisher manager will review your application and approve accordingly. Do allow 48 hours working days for our publisher manager to review your application.
You can check your property status in the dashboard.

Illustration purposes only