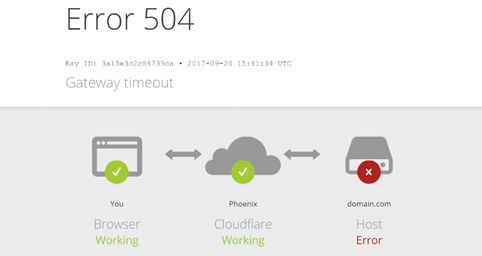 Illustration purposes only
What Is A 504 error?
The 504 Gateway Timeout error is an HTTP status code that means that one server did not receive a timely response from another server that it was accessing while attempting to load the web page or fill another request by the browser.
How to Fix the 504 Gateway Timeout Error
Step 1:
Retry the web page by clicking the refresh/reload button, pressing F5, or trying the URL from the address bar again. Even though the 504 Gateway Timeout error is reporting an error outside of your control, the error might only be temporary. Simply retrying the page is a quick and easy thing to try.
Step 2:
Restart all your network devices. Temporary problems with your modem, router, switches, or other networking hardware could be causing the 504 Gateway Timeout issue you're seeing. Just restarting these devices could help. If issue persist, please take a screenshot of the error and contact our customer support for further assistance
Step 3:
If issue persist, please take a screenshot of the error and contact our customer support for further assistance