What Is A Conversion Report?
Unlike the Performance Report, which groups and aggregates all the stats in your report, the Conversion Report serves as a line item list of conversions that have attributed by your referral. Here, you can view all the data specific to each conversion, including the Conversion ID and Click ID used to attribute the conversion to the source click.
The Conversion Report is also the resource for understanding your conversion status in the system.

How Does Involve Asia Track My Conversions?
We track your conversions via a combination of either links, cookies, or post-back URLs depending on each offer. All traffic is tracked in real time, and your performance can be reviewed on your dashboard. You may review all conversions under Conversion Report, which can be found under the Reports tab.

When you click on the Conversion Report you will be able to see this page as follows.
Filter
Date Range – If you want to change the date range of the conversions that you want to view in your report, you can do so with the Date Range section. Here you can select from a preset set of date ranges, including:

Today (current day)
Yesterday
Last 7 Days
Last 30 Days
This Month (1st of month – Today)
Last Month (1st to 30th/31st)
Custom Range (Maximum date range is 3 months)
Search – You may use this option to search the specific Advertiser Name or Order ID

Illustration purposes only
When you click on the More Options you will be able to see this column as follows. The Customize Report function which can be used when you need more information breakdowns about your conversions.
Customize Report
Conversion Information – Tick the box and filter out on the conversion information that you want to see.
Publisher Sub ID – Tick the box and filter out to see the publisher Sub ID.
Advertiser Information – Tick the box to filter out the order id and advertiser Sub ID.

Illustration purposes only
Conversion Status
To show the conversion status with the Total Sales and Total Estimated Earnings accumulated for each status.

Illustration purposes only
You may also want to check this related article:
Understanding The Various Statuses On The Billing Report
https://help.involve.asia/hc/en-us/articles/115000907046-Understanding-the-various-statuses-on-the-billing-report
All Conversions Report
You can now view the entire conversions on this section, Please click the Export CSV button if you want to view your conversion report in CSV format. Once you have clicked the Export CSV you can see a pop up message saying Queue Created we will email you a link to download the exported file once it is completed as per the screenshot follows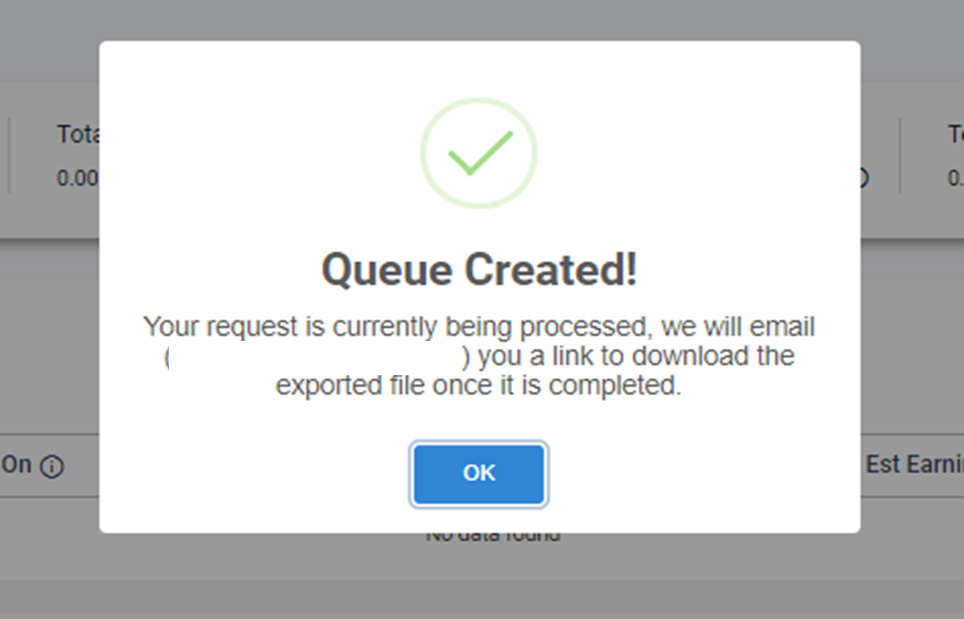 Illustration purposes only

Special Note
You may always click on the See Tutorial button to guide you on how to use the conversion report page.
You can hover your mouse to the Tool Tip to find out the meanings of the icon if you are unsure