In this guide, you will be able to learn on what are Banners, Coupons and Campaigns
What Are Campaigns ?
Campaigns are basically a promotional activity which is conducted by an Advertiser from time to time. All conducted campaigns will usually include the Creatives, Banners and information's such as Campaign Period, Campaign Mechanic, Terms and Conditions and also the Link to the Landing Page. Please find the guide provided below
Step 1 :
Login to your Involve Asia dashboard and go to "Promotions" and Click on "Banners & Coupons"

Illustration purposes only
Step 2 :
Once you have landed on the Banners & Coupons page you will be able to Filter "Campaigns " based on - Country, Advertiser Name, Category, and Coupons (Without Coupons or Coupons Only) availability.

Illustration purposes only
Step 3 :
Once you have filtered your preferred Advertiser Campaign, you will be able to see all ongoing campaigns conducted by the Advertiser. When you have clicked a specific Campaign conducted by the Advertiser, you will be able to see a "Pop Up" box which shows all the information for the Campaign as per the screenshot below.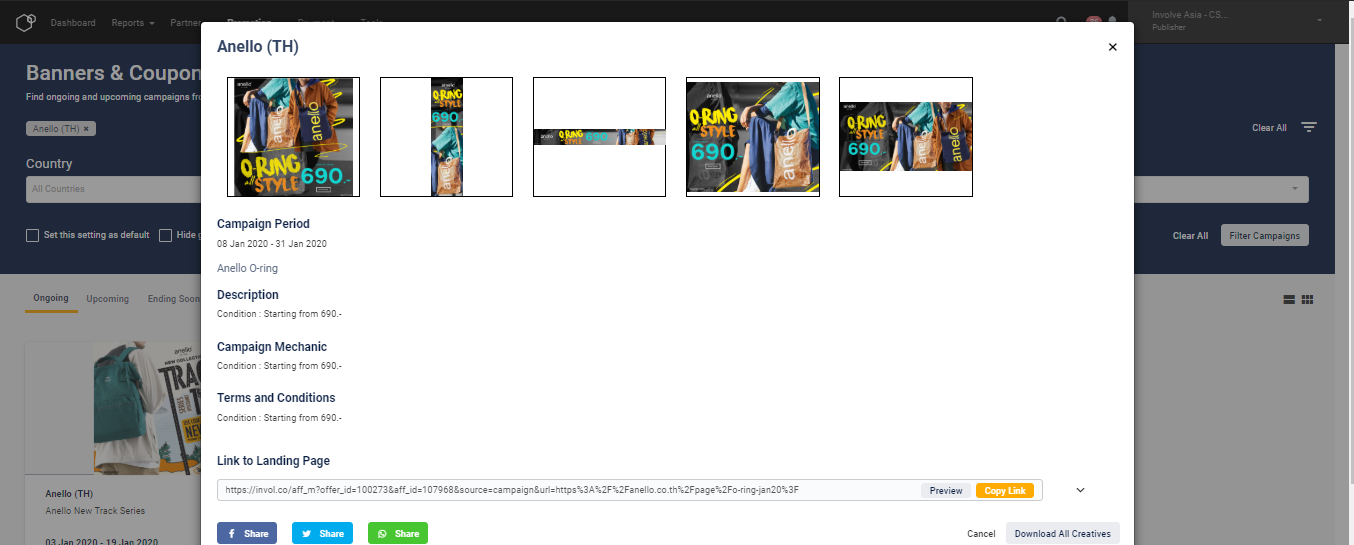 Illustration purposes only
Campaign Period

Will define the Exact Duration with Dates on how long the campaign will be conducted
Campaign Mechanics
Necessary details such as Campaign Title, Duration of the Campaign, Discount Code with Specific Landing Pages if any.

Terms and Conditions
Includes all Terms and Conditions which a publisher needs to adhere for this campaign
Link To Landing Page

Illustration purposes only
Link provided which will redirect users to the Landing Page of that offer.
If you click the preview button, you will be directed to the Campaign Website
You can Copy the Link and Download All Creatives to help you better in promoting
We have also included Facebook, Twitter and Whatsapp button icons. This will broaden your promotional avenues besides only promoting on your added property on your dashboard.
HTML Code
If you wish to copy the HTML Code instead of the Link for this campaign hover your mouse to the campaign banner and click Copy HTML and paste it in your website.
You can also click Download if you wish to download the campaign banner

Illustration purposes only
Should you have any question, please do not hesitate to contact your publisher Manager or our Customer Support.