In this guide, you will be able to learn on the Advertiser Offer Invitation, which is a personal invitation from the Advertiser to promote a particular offer.
What Is An Advertiser Offer Invitation ?
Basically the Advertiser will choose their preferred publishers according to the niche or category they require. Once the Advertiser has chosen the preferred publishers, they will send an offer invitation for the publisher to accept and to promote the offer.
 Step 1 :
Login to your Involve Asia dashboard.  Should you receive an Advertiser Offer Invitation, it will show on your "Notification Icon" (the bell).
You will need to click on the 

"Notification Icon"

 as per the screenshot provided below.

Step 2 : 
Once you have clicked on the "New Invitation" message, you will see the New Invitation Offer box with all the details as per the screenshot below.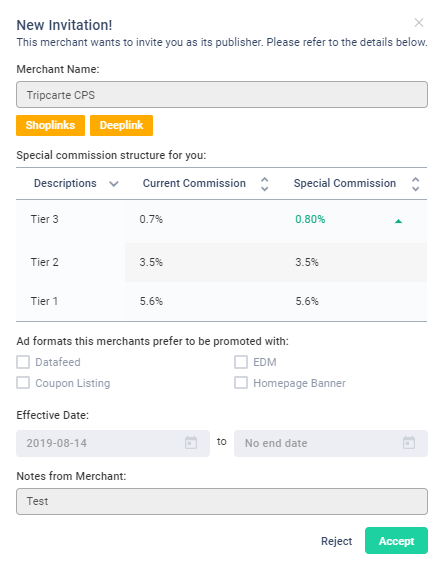 Advertiser Name: The advertiser who sent the offer invitation to you
Commission Structure: Shows you the general commission for the offer and the special commission which is offered to you on this invitation if you choose to accept and promote the offer
Ad Formats: The offer formats in which the advertiser prefers the offer to be promoted with
Date: Effective date and the duration of the offer
Notes: Special instructions and details on the Offer
 If you wish to accept the invitation, just click on the "Accept" button and a pop up box will appear as per the screenshot below: 

If you wish to reject the invitation you may click the "Reject" button and a pop up box will appear as per the screenshot below. You can provide the reason for rejecting the invitation which is an optional.
You can begin promoting the offer.
If you have further queries, kindly contact your Publisher Manager or get in touch with us at wecare@involve.asia