What Is My Advertisers ?
My advertiser page is used to check your offer applications and offer invitations, whenever advertiser's sends an invite personally to promote the offer after evaluating your performance and property niche.
How do i access My Advertisers Page:
1. Login to your account dashboard
2. Click on "My Advertisers" icon as per the screenshot provided below.

You can check your "Offer Application status" by using the filters:

Advertiser - To choose the offer

Application status - Offer application status ( Approved, Rejected, Blocked, Pending)
Advertiser status - Offer status if its (Active or Paused)
My Advertisers - All offer applications overview
New Opportunities - New offer invitation from the Advertiser
Favorites - Your favorite offers
What Is An Advertiser Offer Invitation?
When Advertisers like your content, audience size, or overall style and want you to specifically promote their products or services, the advertiser will choose their preferred publishers according to the category they require. Once the Advertiser has chosen the preferred publishers, they will send an offer invitation for the publisher to accept and to promote the offer with higher and different commission payout from the commission stated on the dashboard.
How will i know if I've received an offer invitation:
Step 1 :
Login to your Involve Asia dashboard. Should you receive an Advertiser Offer Invitation, it will show on your "Notification Icon" (the bell).
Click on the "Notification Icon".

Illustration purposes only
Step 2 :
Click on the "New Invitation" message, you will see the New Invitation Offer box with all the details as per the screenshot below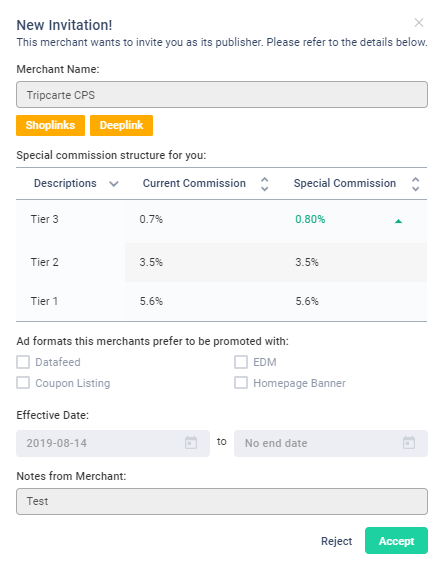 Illustration purposes only
Advertiser Name: The advertiser who sent the offer invitation

Commission Structure: General commission for the offer and the special commission which is offered to you

Ad Formats: The offer formats in which the advertiser prefers the offer to be promoted

Date: Effective date and the duration of the offer

Notes: Special instructions and details on the Offer
If you wish to accept the invitation, just click on the "Accept" button and a pop up box will appear as per the screenshot below:

Illustration purposes only
If you wish to reject the invitation you may click the "Reject" button and a pop up box will appear as per the screenshot below. You can provide the reason for rejecting the invitation which is an optional.
Illustration purposes only