In this guide, you will be able to learn on "How to Request For Early Withdrawal". We believe this article will be a useful feature for our publishers.
What Is An Early Withdrawal ?
The usual process for a withdrawal will be based on payment terms (Example: Payment Terms 30 days) which is stated on the offer description for each offer.
With the"Early Withdrawal" feature, publishers do not need to wait for the payment terms and will be able to request for an early withdrawal for the offers that they are promoting. 
STEP 1
Login to your Publisher Dashboard and navigate to Payment. Then select "Early Withdrawal" from the drop down menu. 

STEP 2
You will need to select the "Available offers" according to your preference on your Early Withdrawal page that you wish to withdraw. There are two options which are available as per the screenshot provided below.
Option 1) You can select this option if you wish to only make an Early Withdrawal for one offer. Once you have selected the offer click "Submit" and "Add to Cart" as per the screenshot provided below.



Option 2) If you wish to select multiple offers to make an Early Withdrawal then you can choose this option. You can select the offers which you wish to withdraw and click the "Add to Cart" button as per the screenshot provided below.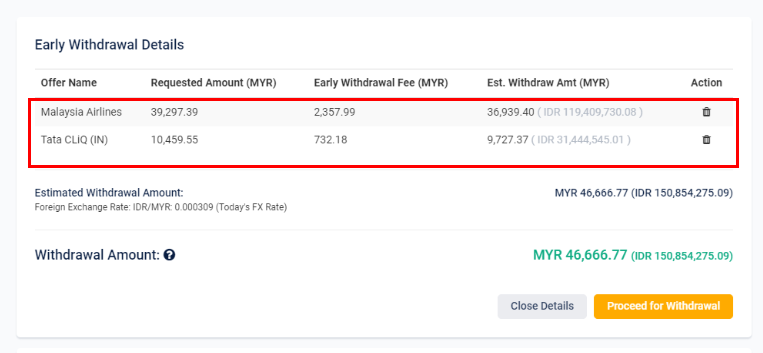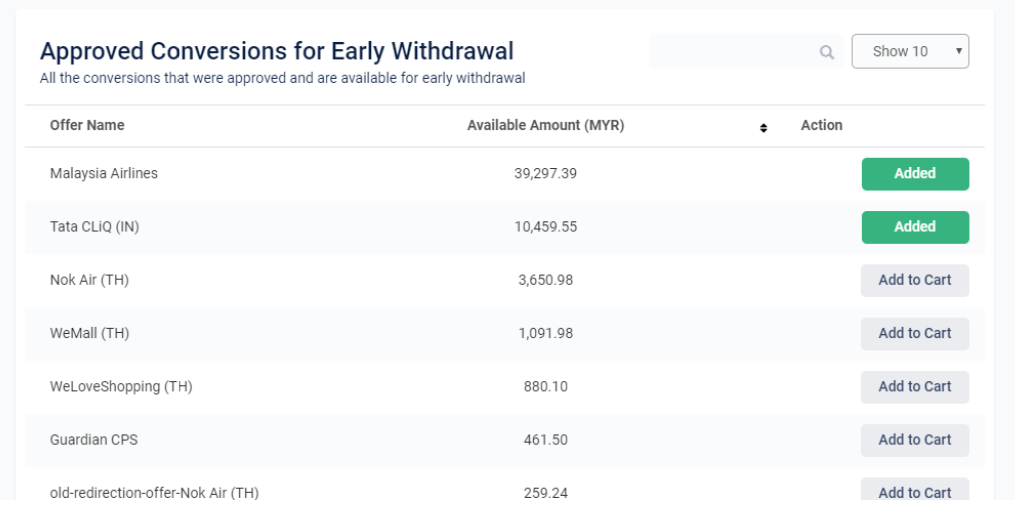 If you wish to remove the offer that you have added to cart you can click the  icon as per the screenshot provided below. 

Take note that the withdrawal amount shall be subjected to the Daily Foreign Exchange Rate: (Example: IDR/MYR: 0.000309 (Today's FX Rate)
The minimum withdrawal amount is MYR 80.00 for wire transfer and MYR 400.00 for Paypal.
STEP 3
Once you have made your offer selections to withdraw, you can click the "Proceed for Withdrawal" button.

Next, you will be directed to the "Withdrawal Summary" page. Make sure the withdrawal details provided are correct to avoid any rejected payment.
If you wish to change your withdrawal details you may click the "Edit Info" button which will redirect you to the payment settings page. If all details provided are correct you may click the "Confirm" button to proceed to the next step


There will be a pop up box "Confirm Submission of Request". Click the confirm button again.

Next, you can see the "Early Withdrawal" requested on your payment history page as per the screenshot provided below.


You can also check your Early Withdrawal payment history by clicking the "Request Report"
 Please take note you cannot submit a new request immediately if there is a current and ongoing early withdrawal process. 


In case if you wish to refer to the steps once more, you can click on the "Early Withdrawal Terms" button. This will direct you to the Knowledge Base guide.

Should you have any question, please do not hesitate to contact your Publisher Manager or our Customer Support.